Emergency Evacuation Software Solution
Winner!  Best of New York 2014
New York Digital Government Summit – Best Mobile/Wireless Project – Center for Digital Government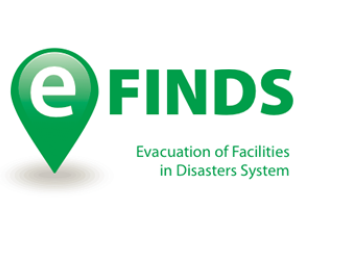 The Evacuation of Facilities in Disasters System (eFINDS ®) is a secure, confidential, fast and easy-to-use statewide solution that will provide real-time access to healthcare and human services patient and resident locations in an emergency.  Using pre-printed wristbands with bar codes and identifying numbers, handheld scanners, a mobile app and optional paper tracking, the system tracks patients and residents in real time across facilities.
During Superstorm Sandy, more than 13,000 patients and residents were evacuated from New York regulated and State operated facilities, including more than 7,100 from hospitals and nursing homes.  When these storms struck, there was no statewide system in place to track vulnerable patients and residents who had to be transferred to alternative locations due to flooding, power outages or damage to facilities.
"Patients were arriving in the middle of the storm by ambulance and for us it was about not only getting patients in and admitted but getting appropriate clinical information."  Even with those notes, many tests, imaging scans, and examinations had to be redone.  That added to both the costs of care and the stress of the situation – said the corporate director of Emergency Management at Beth Israel Medical Center and St. Luke's-Roosevelt Hospital.
Advantages
Fast, simple and versatile web-based tracking
Inexpensive – pre-printed barcode wristbands
Easy to use – patient and resident locations can be updated and tracked using hand-held scanners, mobile apps on iPhone, IPad or Android devices or paper tracking (if power and/or phones are out of service).
Time saving – at the very minimum, the evacuating facility will only need to place the barcoded wristbands on their patient/residents and send them to a safe location.  The receiving locations can scan wristbands and update the location information when they arrive.
Applications
Java-based system on an existing platform
Computer and USB-connected scanner or mobile application – available on iPhone, iPad or Android devices
Contact
Robert Gallo 
Director Intellectual Property & Licensing
Health Research, Inc. – 150 Broadway – Suite 280, Menands, New York 12204-2719 U.S.A.
Phone 518-431-1208